Copyright © 1999-2008
Weare Are Animal Guardians
All rights reserved.

Room in Your Heart,
How it works..

WAG has a number cats and dogs who are difficult to place due to age or medical issues. WAG cares for the animals until they are adopted, regardless of how long it may be. Some have become permanent WAG cats and dogs. Our preference is to have them in a adoptive home of their own but we are committed to care for each and every animal we take in for life..

You can assist through supporting one or more of these animals. With your support, we can conintue to provide for their support and the needs of the other animals. $25 dollars per month will feed and care for a cat for a month. If you can help, Click here form, Special Needs..

Frequently Asked Questions:
Question: How long does WAG keep an animal?
Answer: For life if we do not find them a permanent home.

Question: How can you afford to keep animals so long?
Answer: Through the generous support of caring people like you..

Question: Why are so many of the cats not adopted?
Answer: Too many people want kittens. This is unfortunate because an older cat is usually quick to adjust to a new home and give it new owner years of love.

Question: Do some of WAG cats have medical issues?
Answer: Yes - but WAG cares for them regardless of their medical issues..

Question: How much does it cost to house and feed a cat per month?
Answer: About $25 dollars a month.


Won't you help by supporting a WAG cat or Dog?
Select one of the animals below and provide support by completing the Room in Your Heart section of the donation form.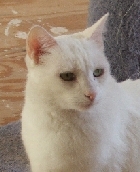 Camille

Pugsley

Frankie

Sawyer